1916
Rural Agricultural Engineering Shop
The Rural Agricultural Engineering Shop was constructed between 1914 and 1916. With 12,600 square feet of floor area, it housed a machine shop, woodworking shop, welding facilities, and a motors laboratory.
Rural Agricultural Engineering Shop Interior
---
1947
Engineering Annex
The Engineering Annex (1947–48) was a wooden building featuring two floors and six wings. A former U.S. Army barracks, it was donated war surplus. The annex burned down on January 10, 1948, due to an "electrical misalignment" (a short) in between the wings. It was never fully occupied, having stood for just eight months, and was intended for chemical, mechanical, and sanitary engineering. Based on historical interviews the location was very near North College and the agricultural engineering building, with one alum placing it near the current physical plant location.
---
1948
Engineering (Annex) Laboratory Building
The Engineering Laboratory Building structure replaced the annex lost to fire. It was a one-story brick building with concrete floors, 16,800 square-feet floor area, and provided an electronics laboratory, a large drafting room, a food processing laboratory, and four classrooms. It became known as the Agricultural Engineering annex.
---
1948/49
Mechanical Engineering Building/ Gunness Engineering Laboratory
The Gunness Engineering Laboratory was the first building to be specifically designed for the needs of the engineering school. Modern for its time, the one-story building cost $475,000 and included specialized laboratories in materials testing, fluid mechanics; internal combustion engines and compressed air; heating, refrigeration, and air conditioning; electrical circuits; and electrical machinery. It also contained a much needed double-classroom seating 100 students and five staff offices. It was named for, and rededicated in 1988 to, Christian I. Gunness. His portrait within the building was painted by Margaret Sargent of Los Angeles, and was commissioned by his son, Robert C. Gunness. In the Mass Aggie days, tobacco and corn grew on the site where Gunness lab now sits. Today, Gunness Lab is home to the Wind Energy Center, Gunness Structural Laboratory, Ocean Renewable Energy/Wave Lab, and more.
---
1951
Gurski Hall / Engineering Shop / Building #71 / Duda Hall
The college needed a building—and engineering shop—to store war surplus. Ever resourceful, Dean George Marston offered $250 to employ Frank Duda and his crew to move the remaining wing from a wooden housing/dormitory structure that had caught fire, located by Draper Hall, to a site west of Gunness Hall. This was done with the use of hay wagons. The entire college staff and all technicians worked to put in the concrete foundation and floor—after the building was onsite—and shoveled gravel up underneath. They nicknamed their new storage building "Gurski Hall" because, according to George Marston, "…there were two Gurskis working on the project, and there was only one Marston, or one Dittfach, or one Wilson, or one Francis Duda." In 1987, building #71—a storage shed, aka Gurski Hall, was approved to be named Duda Hall, in honor of Francis G. (Bugsy) Duda's long service to the college (more than 50 years) and in recognition of all the technicians and staff (past, present, and future) who make such a contribution and so ably serve the College of Engineering. Duda Hall has since been rebuilt and has served as a computer systems laboratory.
---
1950–54
Main Engineering Building / Marston Hall
The Main Engineering Building (dedicated to George Marston in 1970; rededicated in 1998) was constructed in two phases. It has a total floor area of 60,000 square feet and cost $1,350,000—the university's first million dollar building. In 1950, the first half (west/left wing) was completed at a cost of $500,000. It was referred to as the electrical engineering wing. Wary that the legislature might "forget" to fund the second half of the planned complex, Dean George Marston refused to allow construction workers to finish off the exposed wall where the addition would someday commence. Four years later, the second half (east/right wing) was constructed for $850,000. Explaining why it was rough on one side for so long Marson explained that "I'd seen too many buildings on campus that never got their second half. But we got ours." The new wing contained faculty offices, classrooms, and labs for soil mechanics, metallurgy, and mechanics and vibrations.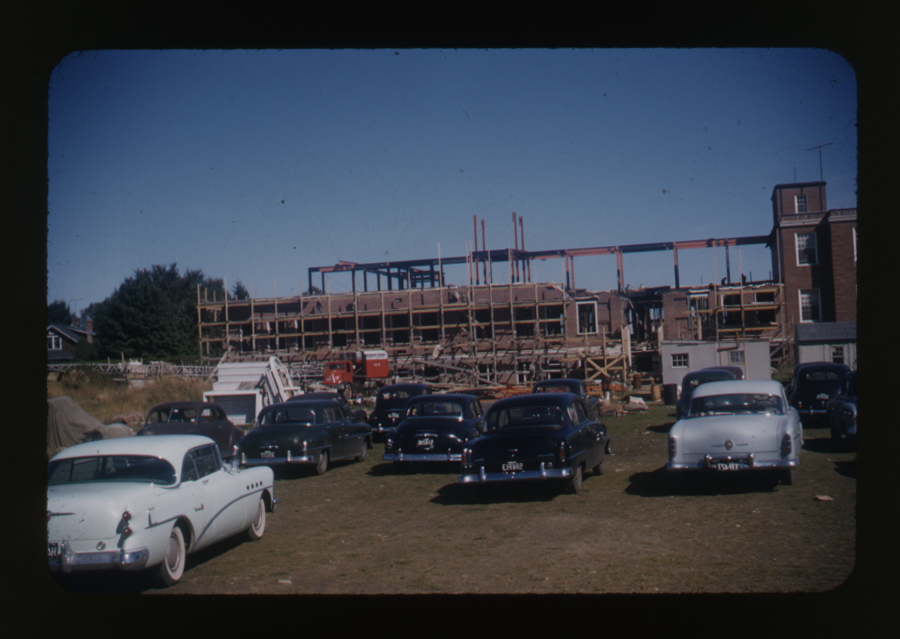 In its time, the Engineering Building has hosted the first Engineering Library (1955-1970) on its second floor; and the first student radio station, WMUA, (1955-1983) on the ground floor with their 50' radio tower sitting on the roof. Marston Hall also provided quarters for the new School of Nursing until their building was complete, and later for part of the history department.
Where Marston Hall sits now was a field of experimental strawberries and blueberries in the Mass Aggie days. Today, the Civil and Environmental Engineering Department is largely based out of Marston Hall. It is also home to the Office of Dean; the Office of Student Affairs; and the College of Engineering Career Center.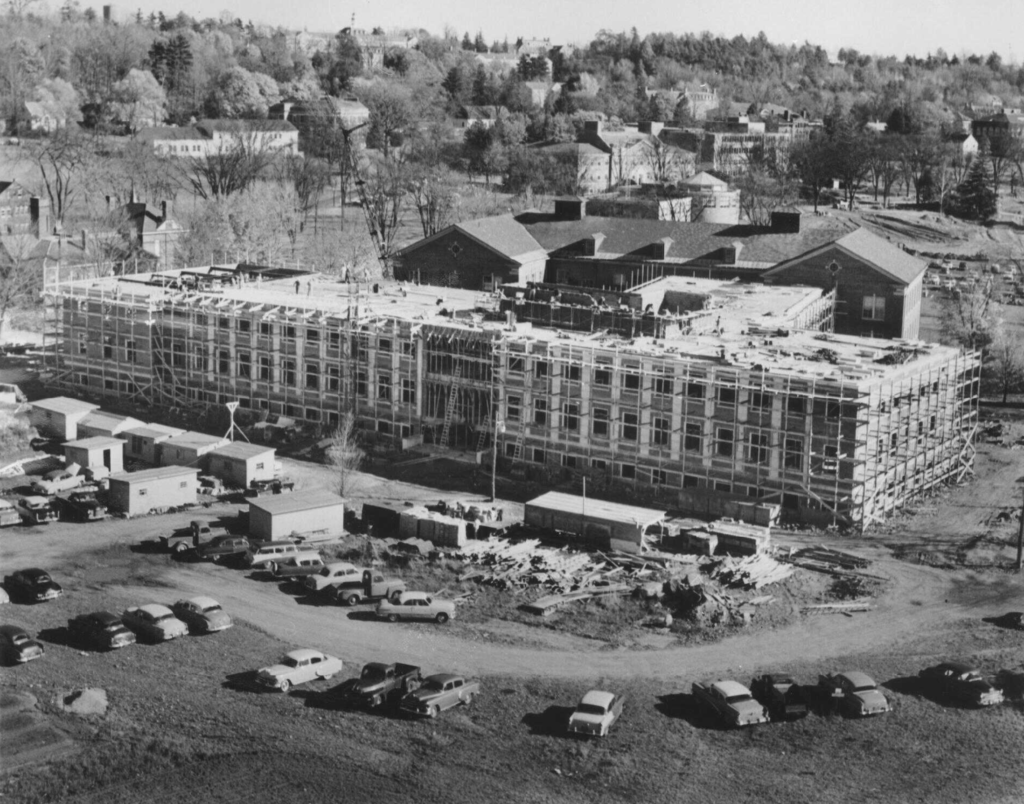 1958/59
Goesmann Lab addition
A significant expansion at its rear north elevation of Goessmann Lab was built for chemical engineering at a cost of $1 million. The building is named for Charles Goessmann. The Department of Chemical Engineering is still based in Goessmann today, and includes newly renovated senior labs and the Research and Innovation Base (C.R.I.B.) student collaboration and study space.
---
1964
Engineering Laboratory (ELab)
Focused on mechanical engineering, this structure was built in 1964 for $2,200,000. Today the Department of Mechanical and Industrial Engineering is based out of ELab. The original machine shop has been expanded to include student innovation and makerspaces. The Human Performance Lab is also located on the ground floor.
---
1966
Engineering Building East / Marcus Hall
Constructed at a cost of $1.9 million (named for Joseph Marcus in 1986; rededicated in 1998) Engineering Building East was completed in 1966 and included a 300-seat auditorium, and laboratories such as fluid mechanics, sanitary engineering, process controls, instrumentation; control systems, and a "state-of-the-art" analog computer facility with machines that stretched the length of the room. From 1973 until the early 2000's, the Video Instructional Program set up shop on the first floor.
In 1986, during the Marcus Hall dedication, a plan to construct an atrium in memory of Joe Marcus was announced, coming to fruition in 1992. It had long been the dream of Marcus to have a gathering place for engineering students, for before or after class, or to have general meetings.
Today, a good portion of the Electrical and Computer Engineering Department is based out of Marcus Hall, including its senior design labs and the M5 student makerspace. The building has undergone numerous changes, including the addition of an atrium, student center, and conference room (1992) and the construction of the Community, Equity and Inclusion Hub and Graduate Student Hub (2019). It also contains a device fabrication facility (cleanroom) on the ground floor.
---
1991
Engineering Research Facility / Knowles Engineering Building
Knowles Engineering Building was built in 1990 for $5.1 million and named in honor of alumnus Andrew C. Knowles III. It was the first major academic building to be constructed at UMass Amherst in 18 years. This three story, 24,000-square foot, facility was designed for the first floor to house the Microwave Engineering Sensing Group; the second floor for the Communication and Control Sensing Group; and the third floor to accommodate the Computer Systems Group. Upon opening, it included state-of-the-art remote sensing lab; a radar lab; a VLSI lab; a computer network lab; and a fault tolerant computer lab.
"Andy's support and service to the college and university demonstrates the tremendous impact of alumni support, and we are proud that his name will be on this research building," Dean James E.A John noted at the 1991 dedication. Andrew C. Knowles III chaired the college's capital campaign in the mid-1980's and was responsible for major donations of equipment. He was the former chairman of the university's board of trustees from 1986 to 1988.
Knowles Engineering building was paid for through overhead generated by grants received by research groups within the facility. Raytheon, Sun Microsystems, and Hewlett Packard were generous in donating to Knowles Engineering Building.
---
1992
Robert C. Gunness Engineering Student Center & Joseph Marcus Atrium—Marcus Hall addition
Alumni built the addition to Marcus Hall. More than 2,000 alumni and friends donated funds toward the construction. Robert C. Gunness and Beverly Osterberger Gunness led the way with their $250,000 pledge and matching gift from the Amoco Foundation. The Gunness Engineering Student Center is named in their honor. The space includes a lounge and small café dedicated to David J. Beaubien '57 and a conference room supported by United Technologies Corporation. The main entry and atrium was dedicated in memory of Joseph Marcus to fulfill his vision for a space within the college to "foster among students a sense of togetherness and shared achievement, and the kind of social exchange that leads to lifelong friendships." The building is also dedicated in honor of Joseph Sol Marcus.
With the $1.2 million addition to Marcus Hall, the college completed "the development of the engineering quadrangle" and "boldly entered the 1990s." The Marcus Atrium and Gunness Student Center was built upon the existing roof on the southwest corner of Marcus Hall. Exterior design was coordinated with the Knowles building, which was erected during the same time.
Robert "Bob" was the son of Christian I. Gunness, who was a university professor from 1914 to 1946, and for whom Gunness Engineering Laboratories is named. Bob Gunness graduated with a BS in chemical engineering, class of 1932. Throughout his professional years, Robert Gunness was recognized as a leading expert on chemical plant design. The children of Robert and Beverly Gunness gifted the portrait of the couple that hangs within the student center.
---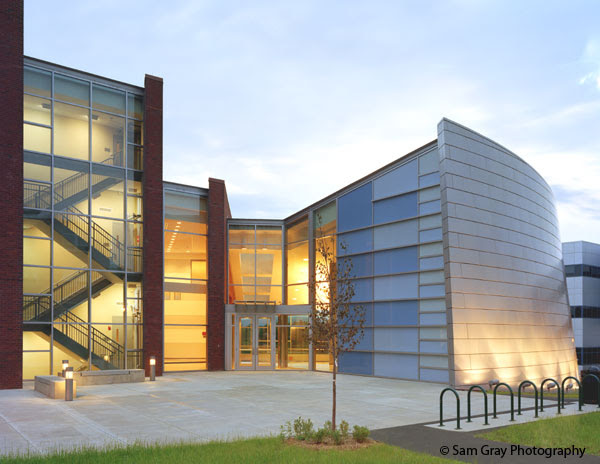 2004
Engineering Laboratory II (ELab II)
With its 57,000 gross feet of space, ELAB II was built to accommodate new labs in chemical as well as civil and environmental engineering, it includes graduate office space, computer labs, lounges, a 190-seat lecture hall, and a 40-seat multi-modal classroom. The labs were constructed for research into materials engineering; bioengineering (ground and first level; ChE); environmental microbiology; geotechnical and soil prep (second level CEE); and water chemistry, water treatment, pathogen control, and trace analysis suites (third level CEE). Generous donors to the construction of ELab II are on a donor wall in the lobby area. The Kellogg Conference room was supported by a generous gift made by Stephen R. Kellogg '72 CEE. Corporate contributors with named spaces within the facility include ExxonMobil; General Electric; The Geotechnical Group; Haley & Aldrich; Hazen & Sawyer; Hewlett-Packard; and J.F. White Contracting.
---
2014
Life Science Laboratory/Institute for Applied Life Sciences (IALS)
The $165 million, 310,000-square foot, Life Science Laboratories (LSL) facility provides state-of-the-art laboratory space for interdisciplinary research and houses the Institute for Applied Life Sciences (IALS) and faculty research clusters working on cutting-edge research and technologies. IALS combines expertise of more than 200 faculty-led research groups from 29 academic departments with the diverse capabilities of industry and government partners in order to translate fundamental research into innovative product candidates, technologies, and services to improve human health and well-being.
2014
The Robert B. Brack Structural Testing Facility
The Robert B. Brack Structural Testing Facility, allows for greatly expanded research opportunities to include large-scale infrastructure components. It is located behind the campus police station at 131 Tillson Way. The facility boasts a high lifting capacity, equipped with a crane that can lift up to 60,000 pounds, which enables testing of full-size structural elements such as beams and girders. The floor, which is the most important part of the building, is comprised of 55 tie-down locations—each with the capacity to load up to 200,000 pounds in multiple configurations.
The facility supports work on larger projects, including research involving sustainable buildings and bridge components by experimenting with new materials and methods, and testing their endurance and strength.
Robert Brack, a 1960 graduate of the CEE department and the former owner and chairman of the board of the Barker Steel Company, spearheaded funding for facility by making the lead gift. Other major donors included Edward C. Gray '73, Ernest Theodore Selig and Rae N. Selig, and the J. F. White Contracting Company.
---
The Future: Sustainable Engineering Laboratories
The Sustainable Engineering Laboratories building will be the platform for dramatic growth in UMass Amherst's clean energy and sustainable materials programs—increasing the impact of its revolutionary research and accelerating development of a diverse, world-class workforce.
A sustainable future requires innovative use-inspired solutions in the areas of energy, materials, transportation, climate adaptation, and human system interactions. UMass Amherst engineers are already leaders and path-breakers in these critical fields. A cutting-edge living laboratory, this building will be designed to explore and demonstrate novel energy technologies that can be replicated and scaled to deliver real-world solutions.
NOTE: The history shared on the website is far from complete. What have we missed? To share your stories and photos please contact us.